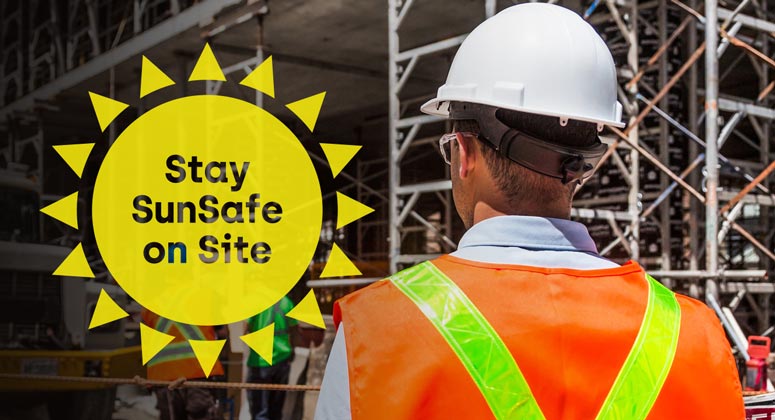 Interactive Information Boards Light the Way to Keep Site Workers 'Sun-Safe' This Summer
An innovative, interactive sun-safe campaign has been launched by construction-based charity, We Build the Future, to reduce skin cancer risks for outdoor workers.
The campaign is designed to raise awareness of the potential dangers of sun exposure and focusses around 'Stay sun-safe on site' information boards. Containing crucial sun-safe advice, the boards allow workers to assess daily UV risk levels via a QR code that links to the UK Met Office website. It's anticipated the boards, which have been created in conjunction with charity Melanoma UK and also feature an interchangeable sign for site managers to illustrate the daily UV risk, will be positioned at construction sites around the country.
Richard Harral, founder of We Build the Future, which raises funds to improve cancer prevention, detection and treatment, and supports industry workers dealing with the disease, said:
"The boards are a visual way to highlight the risk of exposure to sunlight and help try and change attitudes and behaviours. Anybody who regularly works outdoors for long periods is at risk of contracting skin cancer if appropriate action isn't taken. The risk significantly increases in summer, but people need to remember that even when it's cloudy they need to be careful. UV rays which cause skin cancer can still be damaging whatever the outside conditions. It's why we've included the interactive UV risk section within our Stay sun-safe site boards, along with other clear, sensible advice."
In the UK, it's estimated 85% of skin cancer cases are caused by over-exposure to UV radiation. Construction workers are particularly at risk, accounting for 44% of occupational skin cancer diagnosis and 42% of occupational skin cancer deaths each year – we estimate that means over 1300 cases diagnosed and 118 deaths each year amongst construction workers annually. According to Cancer Research UK, 86% of skin cancer cases could be prevented by simply staying safe in the sun. Guidance for staying sun-safe on site includes:
Cover Up: wear long trousers, long-sleeved tops, a hat and sunglasses
Use sunscreen: wear a minimum of SPF 30 sunscreen on uncovered areas of the body
Seek Shade: work in the shade where possible, particularly when the sun is at its highest
Stay hydrated: drink plenty of water throughout the day
Prevention, detection and awareness are the three pillars upon which We Build the Future's sun-safe campaign is built. Detected early, skin cancer is highly treatable. However, prevention and awareness have a huge part to play in reducing diagnosis.
In addition to distributing the sun safe site boards We Build The Future have teamed up with UK Charity Melanoma UK to promote access to advice, health checking tools and support for people diagnosed with Skin Cancer.
Richard continued:
"By following a few simple guidelines, we can all stay sun-safe this summer. Our site boards are a valuable, visual reminder as to what outdoors workers in particular should do to protect themselves. Office based staff visiting site also need to take care – even one instance of over exposure can be risky. We urge construction site owners, employers and employees to take advantage of this extremely innovative safety initiative."