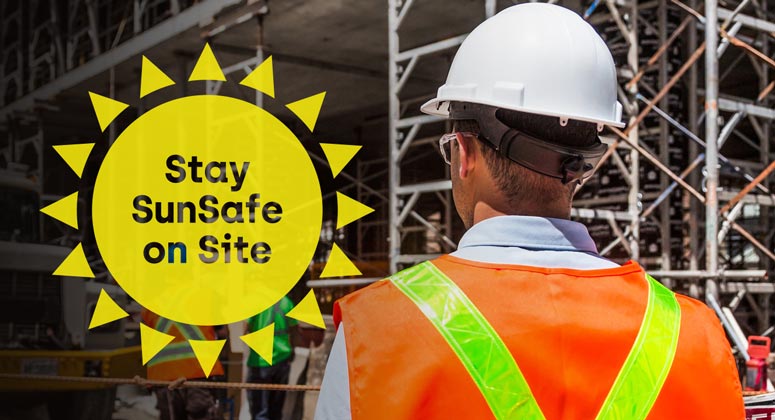 Exposure to the sun is a regular risk for people who work outside, and people working in construction and the built environment are particularly vulnerable.
Construction workers represent 44% of occupational skin cancer diagnosis with more than 1300 cases people in our industry receiving a skin cancer diagnosis every twelve months.
The good news is that according to Cancer Research UK, 86% of skin cancer cases are preventable. We Build The Future has launched its SunSafe campaign to ensure that everyone in our industry knows:
When they are at risk
How to reduce the chance of developing skin cancer
Where to get help and support if they are worried or need to get a changing skin conditioned checked
To do this we want main contractors, employers and workers to take action:
Step 1 – Flag UV risks using our SunSafe site boards
We want every building site to use one of our UV risk site boards to let people working or visiting site know whether the UV risk requires them to take action to protect themselves. Updated daily, the UV risk indicator provide a simple red (high risk) , amber (medium risk)  or green (no risk) indicator and provides simple advice on protective measures.
Our SunSafe site boards are available from Rainbow Safety here.
Step 2 – Help people reduce UV risk
When UV risk is high everyone needs to take simple steps to protect themselves:
Cover up – where long trousers, long sleeved tops, a hat and sunscreen
Use sunscreen – Put sunscreen (at least SPF30 and 4 or 5 stars) on parts you cant cover up such as face and neck – re-apply generously every two hours.
Seek shade – work in shade if you can, especially between 11am and 3pm
Stay hydrated – drink plenty of water.
Step 3 – Help people get the support they need
If people are concerned about changes in their skin, they should always seek medical advice. Ensure that:
Staff are supported in taking time out to get conditions checked.
Everyone knows that their employer places a high value on staying sun safe
If you are diagnosed with skin cancer, you can get advice, help and support from Melanoma UK here or by calling the Melanoma helpline on 08081712455.
How can employers and main contractors help?
We want employers and main contractors to set the right conditions to help everyone stay SunSafe. They can do this by:
Displaying our sun safe site boards in a prominent position on the route into construction sites and updating the UV risk indication on a daily basis following the simple instructions on the board.
Providing suitable sun-screen in easily accessible locations around the site.
Making sure that SunSafe / UV protective clothing is available to staff – and checking that any PPE they issue provide suitable UV protection.
Ensuring that fresh drinking water is readily available
Help people to stay SunSafe by and using the additional resources from Melanoma UK and putting up information posters in welfare areas and canteens (see below).
For office based staff staying sunsafe is just as important – just one incident of over exposure to harmful UV rays can be dangerous. To help:
Download our sunsafe poster and display it prominently on staff noticeboards and in cloakrooms.
Brief staff on how to check UV risk at the location they are going to visit and make this a requirement before leaving the office
Make sure that sunscreen and UV rated PPE are available to all if they need it.
Additional Resources to help people stay SunSafe
Skin self-examination toolkit
You can download Melanoma UK's self-examination check list here. This is a simple way to check once a month whether your skin has changed in any way that could suggest a need to get medical advice. Further information on self-examination is available here.
Check your skin using the SkinVision smartphone app
Melanoma UK have teamed up with medi-tech provider SkinVision to provide access to expert diagnosis of changes in your skin through their SkinVision app – find out more and download your free 7 day trial here.
Understand the signs and symptoms
Its important to understand what changes in your skin need attention and further advice. If you have any concerns always seek medial advice to make sure – but further information on signs and symptoms of skin cancer can be found here.