Stay fit, stay well – how to reduce your risk of cancer
There are no guarantees when it comes to cancer, but there are lots of steps we can take to stack the odds in our favour. Click on the links to go straight to further information from the experts at Cancer Research UK.
Around 4 in 10  cancer cases in the UK could be prevented, largely through things like not smoking, keeping a healthy weight, staying safe in the sun, eating healthily, cutting down on alcohol and keeping active.
There has never been a better time to think about how to stay fit and stay well – use the links below to get straight to the advice you need from the experts at Cancer Research UK:

Exercise - get active
Getting more active is a great way to feel better and there is evidence that it's not only good for your heart but can also reduce the risk of bowel and breast cancer.  Keeping active also helps you keep a healthy weight, which also cuts the risk of cancer.
If you like any form of sport that's great – but there are many ways to keep active that can help you stay fit and stay well. Anything that makes you a bit warmer and slightly out of breath counts as moderate activity – you can discover more at the Change4Life website.

Smoking
Smoking is the biggest cause of cancer. If you're a smoker, the most important thing you can do for your health is to quit – but you don't need to go it alone.
There's lots of support available, visit the NHS smokefree website, or read about many different ways you can stop smoking including how e-cigarettes can help. Find out more about how smoking causes cancer, and the effect of passive smoking.

Healthy eating and keeping a healthy weight
Making simple changes to what you eat and drink can make a big difference to your risk of developing cancer.
Alcohol is a cause of 7 types of cancer, including breast, mouth and bowel cancers – find out more about the benefits of cutting down on alcohol including simple tips and tricks to help.
Evidence also shows that maintaining a healthy diet can help to prevent cancer. Enjoying a healthy diet means eating more healthy proteins like fish and pulses, wholegrains, fruit and vegetables, and cutting down on processed and red meat, sugary drinks and high calorie foods like fast food.
Managing what and how much you eat and drink is also an important part of keeping a healthy weight. Evidence shows that obesity is the second biggest cause of cancer and being overweight or obese  increases the risk of 13 types of cancer as well as increasing other health risks.

Sun, UV and skin cancer
Too much exposure to the sun causes almost 9 in 10 melanoma skin cancer cases and knowing how to protect your skin is particularly important for people working outside. Find out  if you are at risk, and what you can do to stay safe in the sun.
Want to improve health and wellbeing awareness within your workforce?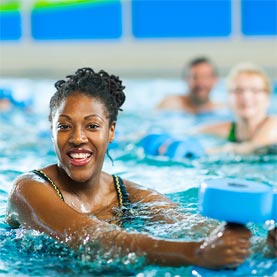 Whether you are a small business employing a few people, a large corporation or somewhere in between, there are many ways to beat cancer and boost your staff health and wellbeing.
See more about programmes that already exist to help you support improved cancer awareness.